This guide provides a personal perspective on the top five activities to do in Phuket, Thailand. From stunning beaches to vibrant markets, Phuket offers a wealth of experiences that cater to all types of travelers.
1. 'Life is a beach' – Exploring Phuket's Stunning Beaches
Phuket, Thailand is renowned for its breathtaking beaches that stretch along the Andaman Sea. With crystal-clear turquoise waters, powdery white sands, and lush palm trees, these beaches offer a paradise-like experience for visitors. Patong Beach, the most popular and bustling beach, is famous for its vibrant nightlife and water sports activities. Kata Beach, on the other hand, is a quieter and more laid-back option, perfect for those seeking relaxation and tranquility.
For a more secluded and untouched beach experience, head to Freedom Beach. Accessible only by boat, this hidden gem boasts pristine waters, untouched nature, and a sense of serenity that is hard to find elsewhere. If you're looking for a family-friendly beach, Nai Harn Beach is an excellent choice. Its calm waters and gentle waves make it ideal for swimming and playing with children.
Aside from sunbathing and swimming, the beaches of Phuket offer a wide range of activities to keep you entertained. Try your hand at surfing, kayaking, or paddleboarding to make the most of the island's coastal beauty. Snorkeling and diving enthusiasts will also be delighted by the vibrant underwater world that awaits them just off the shores of Phuket.

A panoramic view of the crystal-blue waters and the pristine sandy beach of Phuket.
Phuket is not only a feast for the eyes but also a culinary delight for food enthusiasts. The island offers a wide array of delicious Thai dishes that will tantalize your taste buds and introduce you to the flavors of this vibrant country. From street food stalls to upscale restaurants, Phuket has something to satisfy every palate.
One must-try dish is Pad Thai, a popular stir-fried noodle dish that combines rice noodles, shrimp, tofu, bean sprouts, and peanuts in a tangy sauce. Another local favorite is Tom Yum Goong, a spicy and sour soup made with shrimp, lemongrass, galangal, and lime leaves. The combination of bold flavors in this soup is truly a taste sensation.
Seafood lovers will be in paradise in Phuket, as the island is known for its fresh and succulent seafood. From grilled prawns to steamed fish and spicy seafood curries, the options are endless. Don't miss out on trying Pla Rad Prik, a deep-fried whole fish topped with a sweet and spicy chili sauce.
Vegetarians and vegans will also find plenty of options in Phuket. Try the flavorful Green Curry with tofu and vegetables or the famous Som Tam, a refreshing papaya salad that is bursting with flavors of lime, chili, and peanuts. Pair your meal with a fresh coconut water or a Thai iced tea for a truly authentic experience.
3. Immersed in Culture: Have You Ever Experienced Phuket's Vibrant Festivals?
Phuket is not just a tropical paradise; it is also a hub of cultural festivities and vibrant celebrations. Throughout the year, the island comes alive with a multitude of festivals that showcase the rich heritage and traditions of Thailand. Immerse yourself in the local culture and witness the colorful and lively festivals that Phuket has to offer.
One of the most renowned festivals in Phuket is the Vegetarian Festival, held in late September or early October. This nine-day event is a time of purification and spiritual cleansing for the Thai-Chinese community. During the festival, participants observe strict vegetarian diets and perform rituals to ward off evil spirits. You can witness processions of devotees, dressed in white, carrying statues of gods and participating in awe-inspiring rituals such as firewalking and body piercings.
Another festival not to be missed is the Songkran Water Festival, which marks the Thai New Year in mid-April. This lively and joyful celebration involves water fights and splashing as a way to cleanse and purify oneself for the coming year. Join in the fun as locals and tourists alike take to the streets armed with water guns and buckets, drenching each other in a playful water battle.
Throughout the year, you can also experience smaller local festivals that highlight various aspects of Phuket's culture, such as the Old Town Festival and the Sea Gypsy Village Festival. These events showcase traditional music, dance performances, local crafts, and delicious street food.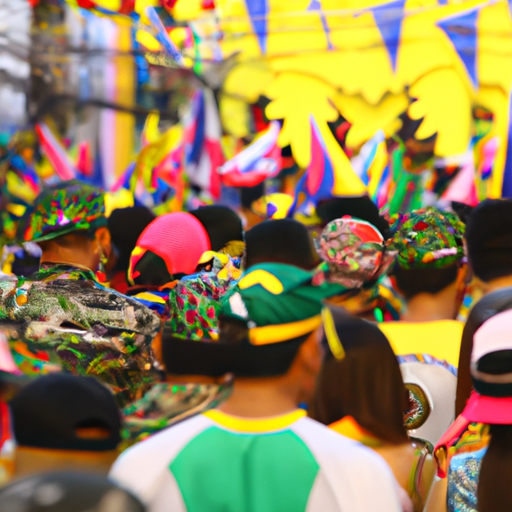 A crowd of people in colorful attire celebrating a local festival, showcasing Phuket's rich cultural heritage.
4. What's in Store for You at Phuket's Night Market?
Phuket's night market is a must-visit destination for all travelers seeking an authentic and vibrant shopping experience. As the sun sets, the market comes alive with a bustling atmosphere and a wide array of stalls selling everything from local handicrafts and souvenirs to clothing and accessories. The night market is a treasure trove of unique finds, and you never know what hidden gems you might discover.
Upon entering the market, you'll be greeted by the enticing aroma of street food wafting through the air. The night market is a food lover's paradise, offering a diverse selection of delicious Thai delicacies and international cuisines. Indulge in mouthwatering dishes such as pad Thai, satay skewers, fresh seafood, and delectable desserts. The best part is that you can savor these culinary delights while strolling through the market, immersing yourself in the vibrant atmosphere.
In addition to shopping and dining, the night market also offers a range of entertainment options. You can catch live performances by local musicians, dancers, and street artists, adding to the lively ambiance of the market. Whether it's traditional Thai music or modern interpretations, the performances are sure to captivate and entertain.
One of the highlights of the night market is the opportunity to interact with local vendors and craftsmen. Many of the stalls are run by local artisans who take pride in their craft. Engage in friendly conversations, learn about traditional techniques, and even watch artisans at work. From hand-carved wooden sculptures to intricate jewelry, the market is a showcase of local talent and creativity.
Five Things to do in Phuket, Thailand:
| Activity | Location | Highlight | Cost |
| --- | --- | --- | --- |
| Visit the Big Buddha Temple | Chalong, Phuket | Spectacular views of the island | Free |
| Go to Patong Beach | Patong, Phuket | Beautiful white sand and crystal clear water | Free |
| Explore the Old Town | Phuket Town | Experience local culture and cuisine | Free |
| Visit the Phuket Weekend Market | Phuket Town | Shop for souvenirs and unique items | Inexpensive |
Phuket, Thailand is a treasure trove of experiences waiting to be discovered. Whether you're a nature enthusiast, a foodie, or a culture vulture, this tropical paradise has something to offer you. So pack your bags and get ready for an adventure of a lifetime!